MEDICAL DELIVERY BETWEEN HOSPITALS IN THE URBAN AREA (BELGRAD, SERBIA)
The goal of the mission was to confirm FIXAR 007 capabilities for delivering medical products between hospitals in the city. The flight was carried together with the Urban Air Traffic Management DEVelOpment project & DEMOnstration partners.
During the flight, the drone was in communication with the UATM center to follow the planned route, flight corridor, and similar data in real-time. As the flight was carried out in the urban area, the UAV earned approval for SAIL IV flights under SORA.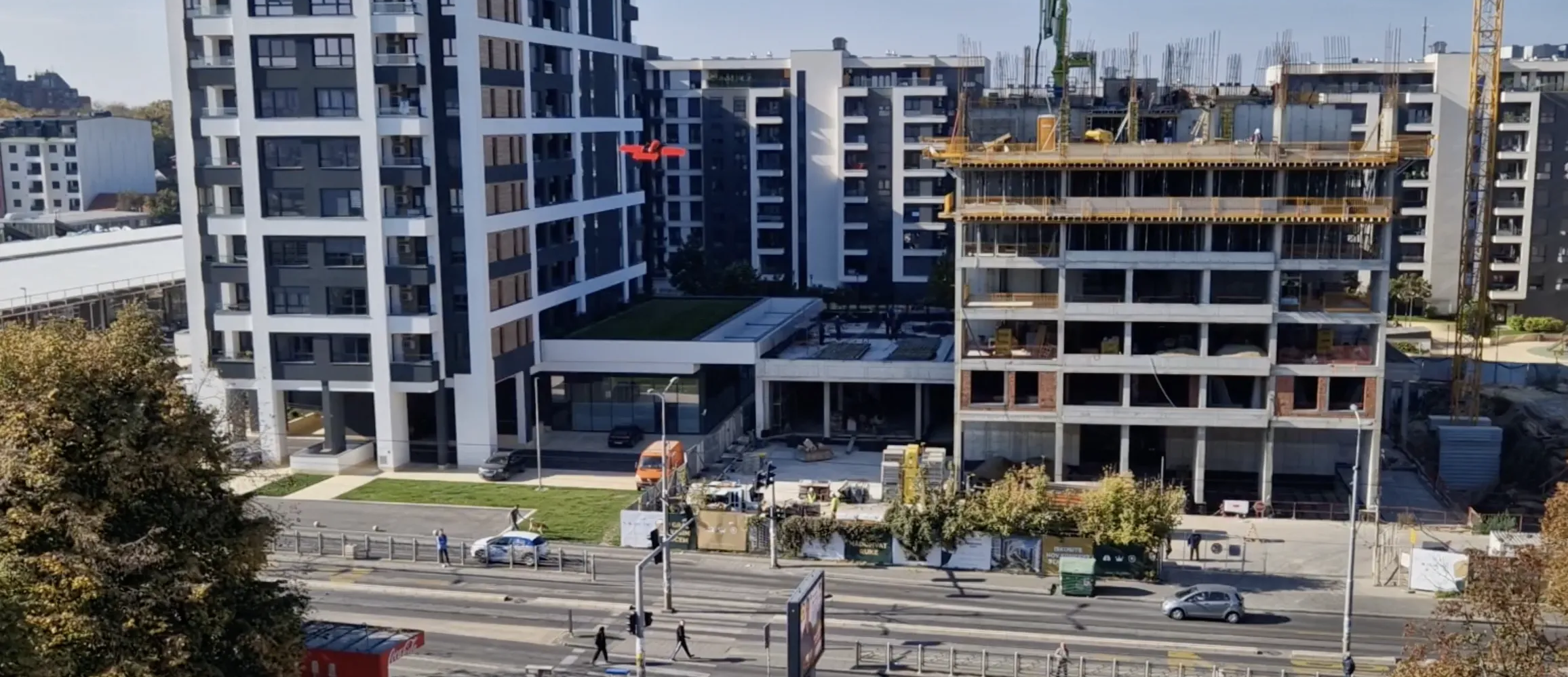 Flight mission overview
| | |
| --- | --- |
| AIRCRAFT MODEL | FIXAR 007 |
| AIRCRAFT TYPE | Fixed-wing eVTOL |
| DURATION OF FLIGHT | 10.6 min |
| MISSION MAXIMUM ALTITUDE | 360.73 m |
| DISTANCE COVERED | 8,5 km |
| PAYLOAD | Dummy payload |
Location and flight route
The flight route distance of 8.5 km was executed in 3.5 km range from the take-off point within 10.6 minutes. The maximum absolute altitude during flight reached 360.73 m. The flight was executed at a height of approximately 100 m AGL not affecting or interfering in any form with the air traffic on Threshold 30 of the Belgrade airport runway.
Although the mission took place within the city territory, the flight route was built above unpopulated areas or partially above-developed, but unpopulated areas, while approximately 15% of the route length was passing over living areas but not directly over the buildings and houses. The flight route was constantly crossing streets and roads with traffic. After taking off from the droneport, FIXAR 007 proceeded on the route and landed on the droneport at the pre-defined position.


Regulations
The University of Belgrade – Faculty of Transport and Road Technology is located within 1.5 km radius of the Serbian Air Force heliport near the Military Medical Academy, therefore allowance for airspace allocation was necessary and obtained. All the necessary permissions from CAA (Serbia), the Ministry of Defense and the Ministry of Interior were obtained by Project Partners – Secretariat for Transport, Belgrade. The drone itself was approved for SAIL IV flights.
Results
As a result of the mission, it was concluded that, based on the maximum deviation of 0.7 m and horizontal deviation at turning angles of 4.7 m. large safety corridors are not necessary for flight operations with the FIXAR 007 and it was proven suitable for deliveries and operations within urban areas.
The mentioned characteristics of the flight route were such that risks and possible negative impacts on the safety of air traffic, as well as on the life and health of people and their property on the ground were minimal. Medical delivery in an urban area using the UATM system being developed within EIT Urban Mobility can be executed quickly and safely supporting a fast supply of urgently needed life-saving drugs, medical equipment, blood, vaccines, and even human organs.