LARGE SCALE ENVIRONMENTAL MONITORING
FIXAR in collaboration with Latvian State Forests carried out an autonomous environmental monitoring mission at the Laugas bog in Latvia. The main objective of the mission was to demonstrate FIXAR 007 capabilities for large-scale monitoring and inspection tasks to assess and further apply this solution to efficiently monitor large areas of land, forests, and bogs.
For this task, FIXAR 007 aircraft was equipped with Velodyne Puck LiDAR sensor and onboard GNSS receiver for increased data accuracy. The peat bog was chosen as a suitable demonstration site for large-scale area monitoring.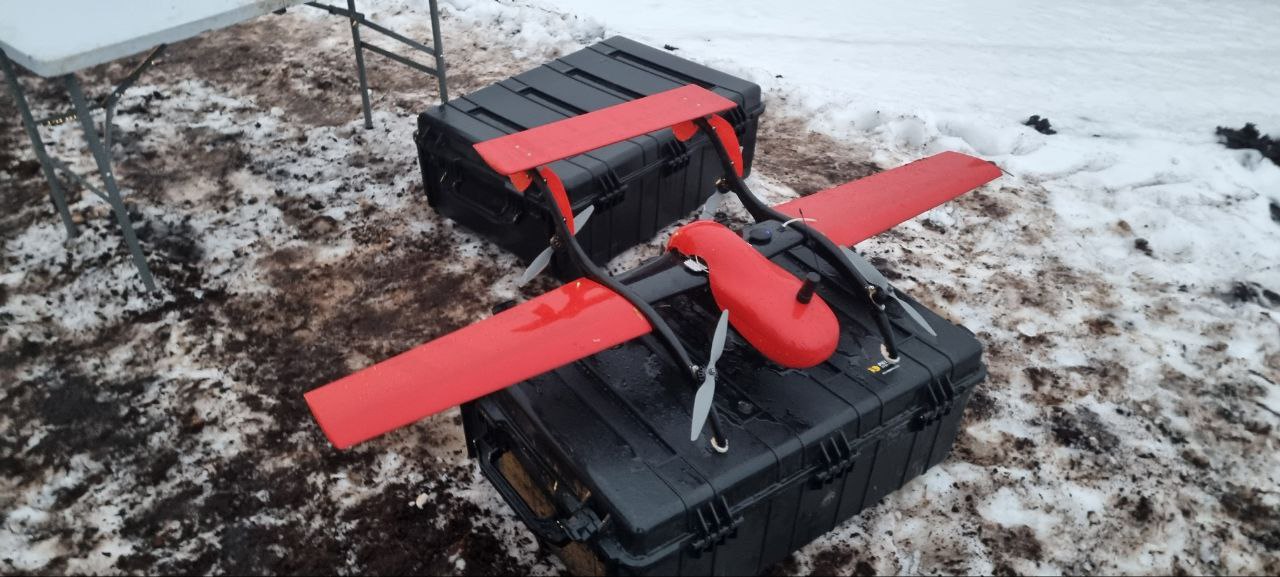 Latvian State Forests own a total of 1.62 million hectares (4 mil ac) of land in Latvia, including 1.59 million hectares (3.92 mil ac) of forests and 0.39 hectares (0.96 ac) of the state-protected nature conservation territories (Latvian State Forests data). In order to manage and protect such vast territories effectively, the customer requires regular monitoring of large-scale areas to collect high accuracy data, that can be accumulated and analyzed over time.
Usually, the customer executes this task in 6 hours with a manually controllable copter drone. During a mission, the customer has to make multiple battery changes, as being in a constant hover mode, the copter naturally consumes more energy to fly. Combined with a LiDAR payload, which typically weighs around 800g, flight time is considerably shorter than FIXAR's.
Solution
FIXAR 007 aircraft equipped with LiDAR sensor as well as GNSS receiver for higher geotagging accuracy. Wind resistance up to 18 m/s (40.2 mph) and IP54 protection make FIXAR 007 drone suitable for use in harsh weather conditions.
Work progress

In December 2021, a total area of 1.1 km2 (271.8 ac) was covered with an average flight speed of 22m/s. The ability to plan the mission beforehand as well as execute it faster than with a copter drone is especially important in wintertime. This allows improving workplace conditions reducing employee time spent in adverse weather conditions.
Despite wind speed of 17-18 m/s (38.0- 40.2 mph) during the flight, FIXAR 007 fixed-wing UAV was able to take off, perform the mission, as well as land autonomously and safely.
Result
Using FIXAR 007 drone laser scanning solution, it took the drone operator just 26 minutes to cover the selected area and gather high-precision data of the terrain elevation levels. The data gathered can be further used for peat extraction planning and peat bog development in the future.
FLIGHT MISSION OVERVIEW
| | |
| --- | --- |
| Duration of flight | 26 min |
| Area covered | 1.1 km2 (271.8 ac) |
| Maximum distance between drone operator and aircraft | 1.3 km (0.81 mi) |
| Mission altitude | 75 m (246.06 ft) |
| Mission average flight speed | 22 m/s (72.17 ft/s) |
| Payload | Velodyne Puck LiDAR sensor, Onboard GNSS receiver |
| Payload weight | 865 g (1.91 lbs) |