AERIAL PHOTOGRAPHY ON ELBRUS
Aerial photography in mountainous terrain is associated with a vast number of specific features and limitations:
Flights over mountainous regions are unpredictable due to rapid changes in weather and the thin air;
Unspecified or incorrect altitude maps may cause drone crashes;
Sharp altitude differences require fine-configuration of the flight plan to achieve the required resolution of the images;
Magnetometer sensors malfunctions in zones of magnetic anomalies cause some RPAS types to fall as their flight becomes unpredictable;
Accurate vertical landing is mandatory, as landing with a parachute is most likely to lead to the loss of the aircraft: wind drift, inability to locate the device in mountainous terrain.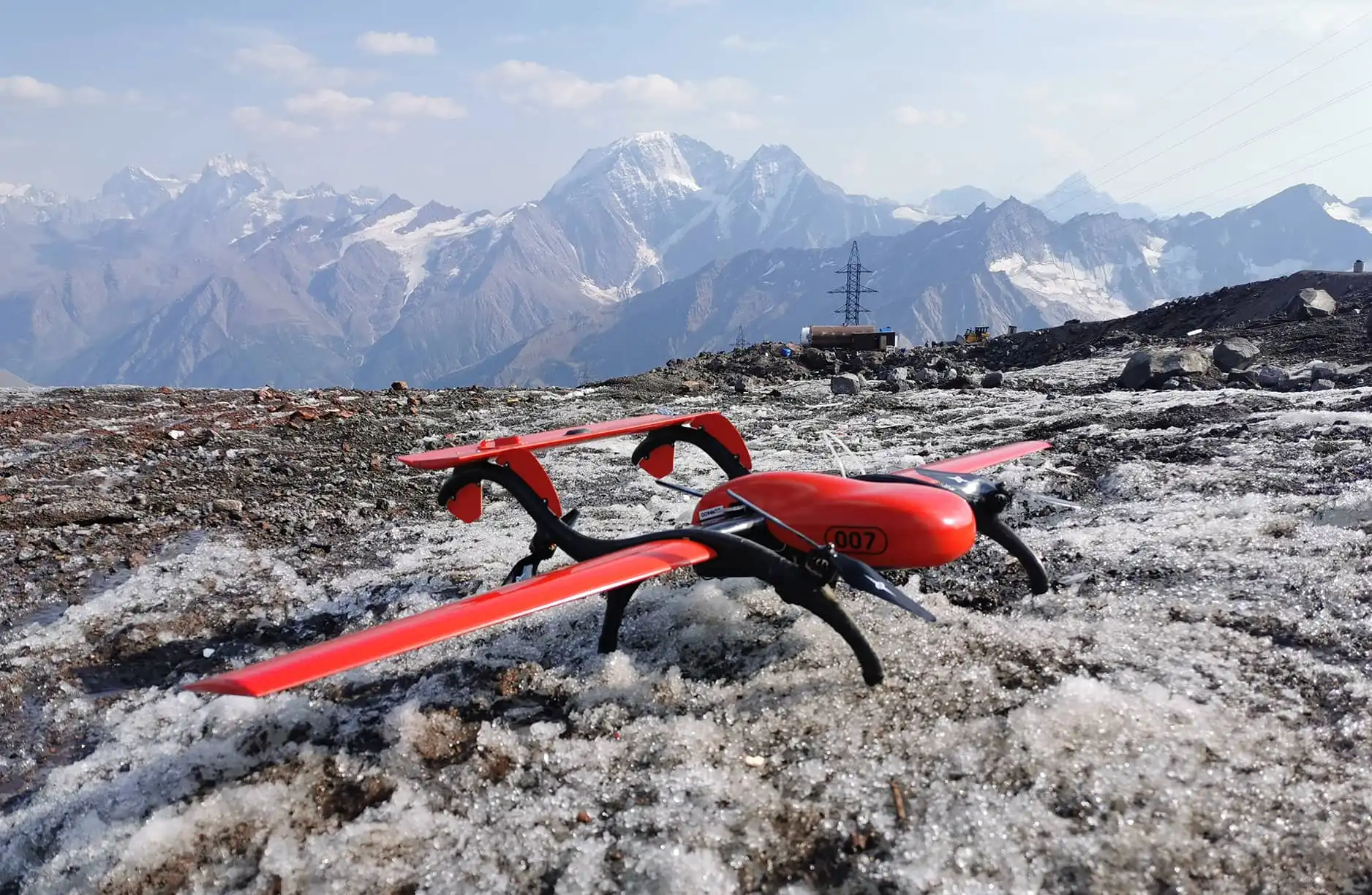 SOLUTION
FIXAR 007 aerial photography package provides the ideal solution:
FIXAR 007 aerodynamic design allows a vertical take-off and landing from/to unprepared areas with accuracy down to 2 meters without the need of a catapult for take-off or a parachute for landing;
The aircraft is resistant to wind up to 12 m/s;
The FIXAR 007 offers a specially designed propelling unit for efficient flights at altitudes above 3000 meters;
The FIXAR XGroundControl ground control station (GCS) allows you to load a specified altitude map and set a flight plan. FIXAR GCS offers also the possibility to set a minimum safe altitude. Adherence to the rules stated in the pre-brief for building a flight plan in the mountainous terrain ensures safe flights;
FIXAR XGroundControl functionality allows a constant navigation altitude and high-definition images to be collected over any terrain throughout the entire flight;
With no magnetometer sensors onboard, FIXAR 007 is fully independent of the magnetic environment and can be operated in the vicinity of reinforced concrete structures, shafts and mines;
The system is fully autonomous from take-off to landing, and learning to operate with it takes no longer than two hours.
WORK PROGRESS
In September 2020, a FIXAR team performed drone aerial photography at an altitude of 4000 meters over the peaks in Mount Elbrus. The purpose of the project was to create an accurate map using orthophoto as part of geodesic surveys for the construction of a Cable car in mountainous terrain.
Detailed images of the terrain with a total area of 8.2 km2 were made with a resolution of 5 cm/pixel for a total period of 4 hours, operating a FIXAR 007 with the onboard equipment weight of 1,000 grams.
RESULT
In severe weather conditions in high mountainous terrain, high-quality photo materials were gathered and later used by the customer for the design and construction of the Cable car. The achieved results confirmed and were a determining factor of the FIXAR 007 system capabilities in the field of aerial photography.
Based on collected aerial images orthophoto mosaic and 3D model were created for further development stages of a construction project.

CHARACTERISTICS OF THE MODEL:
| | |
| --- | --- |
| Maximum take-off weight | 7000 g |
| Maximum payload weight | 1000 g |
| Payload used | Sony A 6000 RGB camera |
| Wing span | 1625 mm |
| Maximum flight speed | 27 m/s |
| Cruising flight speed | 18 m/s |
| Maximum duration of flight | 59 min |
| Maximum flight range | 60 km |